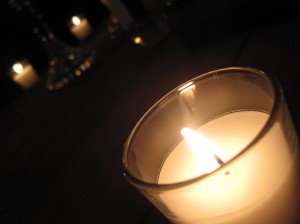 Description: On Sunday, December 11, 2011, Grace & Main hosted a "Big Tent" Candlelight Worship Service downtown at 545 Bridge St. We turned a warehouse into a holy place! The warehouse provided minimal electricity with no heat. People showed up dressed in their warmest clothes not really knowing what to expect that night. Youth from various churches joined in on the action as well that night. We had live acoustic worship music courtesy of Brandie Kendrick, Jody Rising, Austin Brodin, and Daniel Stevens. Testimonies and devotionals were shared by a few people, some of which had dealt with being homeless personally. People split up into small groups to share prayers and ideas to fix the problem of homelessness in Danville, VA. As many as 300 people are living on the streets at a time in our city, and they are more than often overlooked. Half way through the service, the younger people broke off into their own group to pack lunches for the nearby homeless shelter (House of Hope). Many people shared a common interest in finding ways to fix the problem.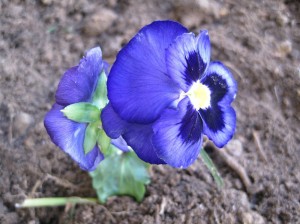 Description: On October 8, 2011, Grace & Main Fellowship participated in Operation Inasmuch by planting a flower bed at an apartment complex on Jefferson Avenue. We have made many new friends at the complex, and the flowers were just a way for us to bless them. We will continue with our commitment to make the complex a more enjoyable and beautiful place to live. We have been discussing more ways to improve the area, some of which include planting a vegetable garden, building some flower boxes for the windows, and a few other awesome ideas.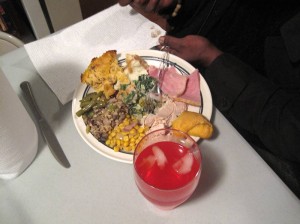 Description: On Wednesday, November 23, 2011, Grace & Main hosted its first Thanksgiving Feast at 228 Broad Street. Many dishes were provided by our guests.  We had an Iron Chef cook-off with the common ingredient being pumpkin. Having so many different recipes involving pumpkin was not thought to be humanly possible. The best part was that every recipe was excellent. The official head count tallied at 44 friends. It truly was a great time of fellowship with old faces and new faces alike. You certainly do not want to miss Thanksgiving Feast 2012.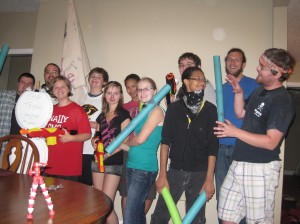 Description: On Friday, July 29, 2011, the city of Danville, VA experienced a zombie uprising…well…sort of. At Grace & Main, we're known for being non-traditional, and our youth retreats are certainly no exception. Armed with Nerf guns and other scavenged weapons, the youth survivors had to defend themselves for a weekend against a zombie uprising in downtown Danville, VA. The attacks were accompanied by Bible studies on how to live an authentically compassionate life in the example of Jesus instead of an apathetic one, walking around like some sort of "living dead". Students put these lessons into practice by taking part in service projects around town, one of which was preparing lunches for the hungry, homeless, and near homeless. View our promotional videos on our Youtube page. www.youtube.com/GraceAndMain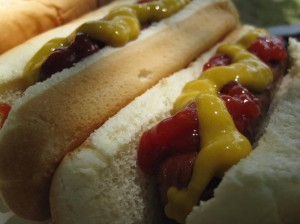 Description: Grace & Main Fellowship hosts parties at the Doyle Thomas Park on Green Street as our little way of saying that the Kingdom of God is most at home in the places where the need is most profound. This particular park is one of the public places to which Grace and Main has made a commitment. We believe that parties are a fantastic instrument to spread grace to those who most sorely need it. If you stand in the middle of this park, you'll see need all around you and if you spend much time in the area you'll soon learn which houses have been used to perpetuate the crack cocaine problem that plagues downtown and the Northside and which houses have been lost to blight or prostitution–you'll also notice the many children who call this neighborhood home. We strive to have a positive impact within this community by providing free hot dog meals, playing with the neighborhood children, and getting to know people on a personal level.